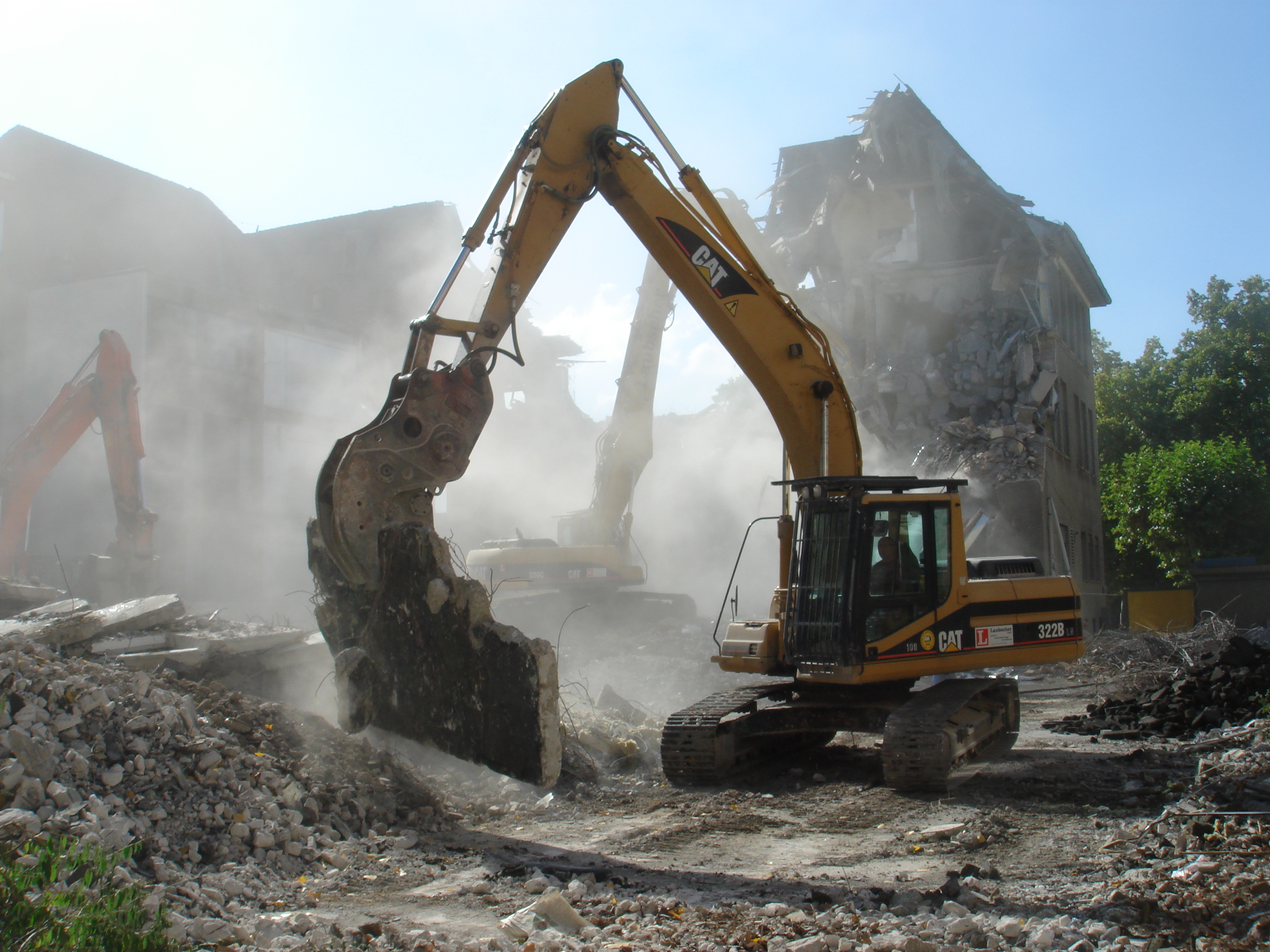 Are you constantly on the web searching for the best professional demolition contracting company in Boca Raton, FL? Your search is over! Welcome to the Demolition Contractors of Boca Raton. We are Boca's top rated demo team because we have experienced staff, professional grade contracting, fast service, and incredible efficiency at affordable rates. The demolition technicians in our company are all licensed, certified, insured, and bonded, meaning that they are reliable professionals. We maintain stringent safety measures and adhere to all OSHA regulation standards, making us the most qualified crew in Broward County. Our extensive experience in the demolition industry gives us a competitive edge when it comes to quick demolitions. After all, time is of the essence when it comes to getting your home or business up and running again!

Boca Raton Demolition Contractors
The Demolition Contractors is your professional company for demolition services. As professionals, we make sure that we handle the entire service properly. Before any demolition is commenced, we complete a multitude of precautionary measures to ensure a safe, fast, efficient, and reliable demolition. Not only is this beneficial to you, but our services involve minimal disturbances to surrounding neighborhoods or environments. Your neighbors will be thankful for the peace of mind.
To start, we research any property laws specific to your property and obtain permits to allow us to work while remaining in compliance with HOAs and the city of Boca Raton. We also survey the premises to prepare our project management protocol. Next, we install soil and erosion control measures and isolate the demolition areas. This is done to prepare the site and contain the project. We also perform utility disconnects to preserve your utilities and piping from sustaining any damages. Next, we perform asbestos and lead abatements. These chemicals, when released in the air, can be dangerous to our crew, so we remove them, as well as other hazardous materials, from the site. Then, we identify any materials that can be salvaged or recycled. Once everything is in order, your site is ready for demolition!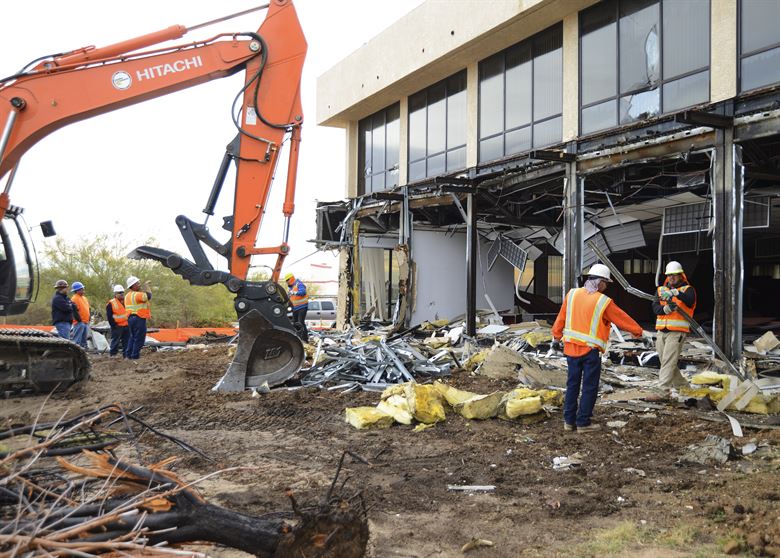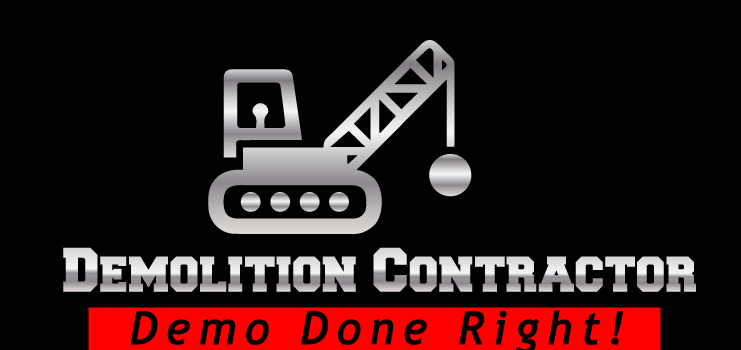 Construction Demolition –
We have partnered with construction companies all across Broward county for construction demolitions. Sounds ironic, doesn't it? However, before many construction projects can begin, many of the sites require some form of demolition service. Because construction companies want to avoid hassles, they go with our professional team. We are grateful to continue these outstanding business partnerships!
Total Demolition –
If you need to completely demolish a building or structural complex, Demolition Contractors covers your total demolition needs. We have state of the art dozers and total demolition equipment to get the job done quickly and safely.
Selective Demolition –
When you need to demolish an obsolete building in a plaza or a building that is connected to another structure, you need a selective demolition. Our team is used to working in narrow spaces to give you the best limited-space demolitions in the area.

Mobile Home Demolition –
We also have contracts with several mobile home communities to handle mobile home demolitions. We can remove parts of mobile homes, entire homes, the entire complex, and clear sites to create a foundation for the next Boca Raton mobile home community!
Façade Demolition –
For all building façade removals, Demo Contractors is the team for the job. We can remove the walls of your buildings without compromising the integrity of your floor scaping. We use the best tools to accomplish this remarkable demolition feat!
Dismantling and Salvaging –
Not everything from a demolition is junk. At Demolition Contractors, we practice intuitive methods for sustainable dismantling services. We can take apart parts of a building with the ability to put it back together, such as utility pipes. In addition, we salvage any materials possible and recycle them. This reduces the amount of materials that get sent to the landfill, making it better for the environment. Even better, our team will count your salvaged materials as credit towards the costs of operation! This is our way of thanking you for joining us in our cause for a greener, more beautiful Boca Raton.
Floor Scaping –
Looking to renovate the floors in your office building or get a new set of tiles for your kitchen? Our floor scaping is coveted for incredible designs and lightning fast service. Our state of the art equipment removes old flooring such as concrete, adhesives, glues, carpets, and more. Once we clear the old model out, we reinstall cutting-edge floors for a floor scaping upgrade!
Concrete Cutting –
During demolitions, concrete can be challenging to remove manually. This is why our trained staff uses industry leading concrete cutters to rip out concrete and other strong materials from your demolition site.
Excavations and Land Clearing –
Our excavation services are used to clear land for construction projects. Our team professionally levels the site so that the foundation is adequate for site building. If you risk going with inexperienced or unprofessional excavation companies, you run the risk of having an unlevel construction site. This can lead to catastrophic damages when the foundation cannot support a newly constructed building. Demolition Contractors meticulously handles your land clearings to keep you in the clear for your site.
Trenching –
With our trenching services, we dig deep to deliver your underground infrastructures. From pipelines to phonelines, we can create the next utility tunnel for your company. All trenching services are completed by experienced staff using the most up-to-date equipment and methods for the best underground infrastructure in Boca Raton.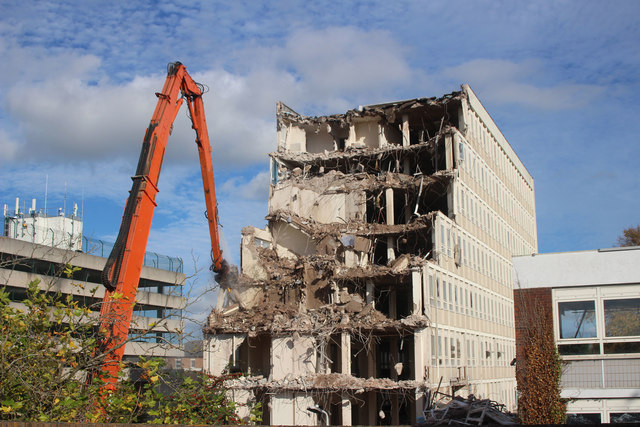 Junk/Debris Removal –
Getting rid of the junk from your demolition is time-consuming, potentially dangerous, and a hassle. Imagine having to move thousands, even millions, of pounds of wood, concrete, rock, carpet, tile, roofing, windows, and more. At Demolition Contractors, we handle this so that you don't have to! We use the most efficient methods in the demolition industry to load, haul, and dispose of all of your junk and debris. This service, when paired with one of our demolition services, creates a bundle package discount for using Demolition Contractors!
If you are a commercial property and need to write off our junk removal services on your taxes, we can give you certifications of any paperwork needed. Not only will you save with us, but you will also save with the IRS!
About Us
The Demolition Contractors of Boca Raton was founded on the principle of high quality service and integrity. Over the years, we were exposed to all types of demolition services and had opportunities to become experts in the industry. We have grown into a jack-of-all-trades with all things involving demolitions. This makes us equipped to handle any and all of our customers' needs with their upcoming projects. Instead of having to use more than one demolition company for two different services, we can do everything in one simple package! Because of our company's demolition utility, we have grown our business through customer referrals to serve the greater part of Broward County!
We are also proud of our integral business practices. Demolition Contractors prioritizes safety above everything else, which means we strive to use meticulous methods for demolition services so that you, your neighbors, and our team can be safe. Also, we pride ourselves on educating our customers. Because our customer service representatives are highly knowledgeable, we gladly walk you through the entire process so that you are clear on the expectations and are aware of your 5-star service. Our business has credentials with homeowners, municipalities, commercial property managers, construction companies, and developers across Southeastern Florida to develop a world class reputation. We are honored to have the opportunity to serve such a diverse and expansive clientele of incredible customers. They continue to help us expand via 5-star reviews and customer referrals.
Demolition Contractors also touts the most cutting-edge eco-friendly demolition practices in Boca Raton. We salvage and recycle products from sites for resale and donations for sustainability. We also use minimal impact techniques to keep Boca Raton looking beautiful beyond its buildings. In addition, our land clearing and excavation services have been used by local parks and departments of recreation to create natural preserves for our community. This is stemmed from the fact that our practices reduce the amount of materials that unnecessarily end up in landfills. That added land is free to develop green sanctuaries like natural preserves and community parks.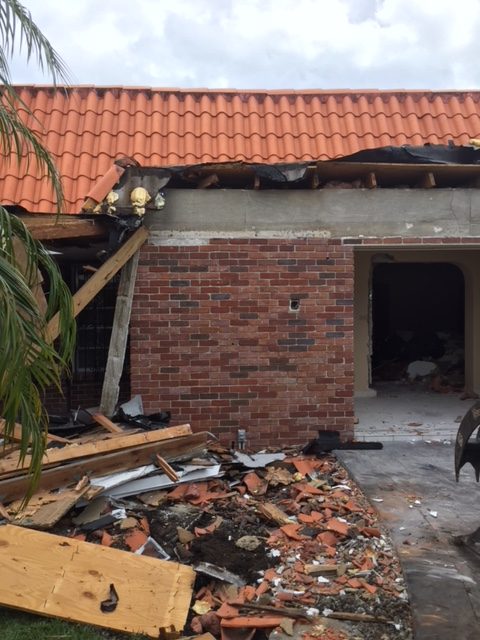 Demolition Contractor Boca
5937 Catesby St, Unit 1
Boca Raton, FL 33433
Phone: 561-264-2594
Hours: Mon - Fri, 8am - 6pm | Sat + Sun, 10am - 2pm
Demolition Contractor Boca is located right in the heart of Boca Raton, FL, giving us an unmatched location to serve the Boca Ration, FL area, as well as the surrounding areas including (but not limited to) Delray Beach, Deerfield Beach, Boynton Beach, Lighthouse Point, and more! We are a 30-minute drive away from the Fort Lauderdale-Hollywood International Airport (FLL), a 15-minute drive away from the Seminole Hard Rock Casino Coconut Creek, and a 20-minute drive away from the Morikami Museum and Japanese Gardens.
Directions from Fort-Lauderdale Hollywood International Airport (FLL) to Demolition Contractor Boca. Head northwest toward Terminal Dr/Upper Terminal Dr. Keep left to continue toward Lower Terminal Dr/Terminal Dr. Continue straight onto Lower Terminal Dr/Terminal Dr. Keep right to stay on Lower Terminal Dr/Terminal Dr. Use the middle 2 lanes to stay on Terminal Dr. Use the right 2 lanes to keep right at the fork and follow signs for Departures. Use the right 2 lanes to continue toward I-595 W. Keep right at the fork, follow signs for I-595 W/I-95/Florida's Turnpike and merge onto I-595 W. Merge onto I-595 W. Use the right 2 lanes to take exit 10A toward I-95 N/W Palm Beach. Keep right, follow signs for Route 842. Keep left and merge onto I-95 N. Take exit 42B to merge onto FL-810 W/W Hillsboro Blvd. Merge onto FL-810 W/W Hillsboro Blvd. Turn right onto N Military Trl. Continue onto S Military Trail. Use the left 2 lanes to turn left onto SW 18th St. Turn left onto Santiago Cir. Turn right onto Catesby St.
Directions from Seminole Hard Rock Casino Coconut Creek to Demolition Contractor Boca. Head north toward NW 40th St. Turn right onto NW 40th St. Turn left at the 1st cross street onto NW 54th Ave. NW 54th Ave turns slightly left and becomes Cullum Rd. Turn right onto US-441 N. Turn right onto the ramp to W Palm Beach. Merge onto FL-869 N. Continue onto SW 10th St. Use the left 2 lanes to turn left onto S Powerline Rd. Turn right onto SW 18th St. Turn right onto Santiago Cir. Turn right onto Catesby St.
Directions from Morikami Museum and Japanese Gardens to Demolition Contractor Boca. Head southeast on Morikami Park Rd toward Puzzle Pl. Turn right onto Jog Rd. Continue onto FL-845 S/Powerline Rd. Use the left 2 lanes to turn left onto SW 18th St. Turn right onto Santiago Cir. Turn right onto Catesby St.